Easiest Way to Create Sermon Clips for Social Media [2023]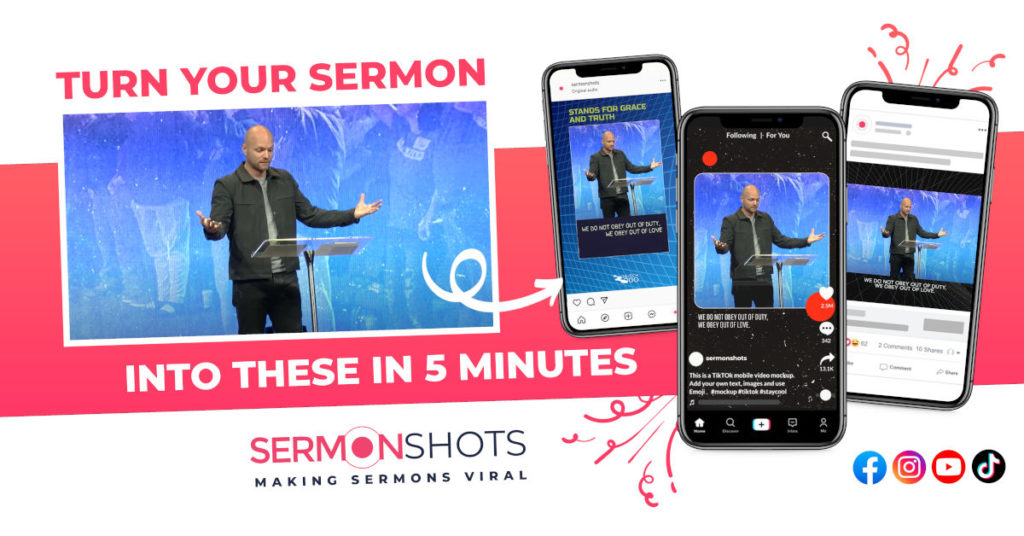 We've all noticed the huge amount of views and popularity of posting sermon clips on social media. This gives people the opportunity to hear the best parts of your message each week and allows them to have further reach by extending beyond your attenders and those that follow your social media pages. But not everyone has the time or talent to create these clips. It takes even the most talented creatives up to an hour and half sometimes to create one clip!
What is Sermon Shots?
Sermon Shots comes to the rescue to help anyone at any skill level create great quality sermon clips and recaps. The best part is that it only takes minutes because it has utilized some powerful technology in a unique way. You are going to be amazed. Here is a quick explanation, step by step, of how it works.
Prefer to watch a video tutorial?
1. Upload Your Sermon
Click the "upload from YouTube" button on the top right and then paste in the YouTube URL of your sermon and hit "submit'. Or upload from your computer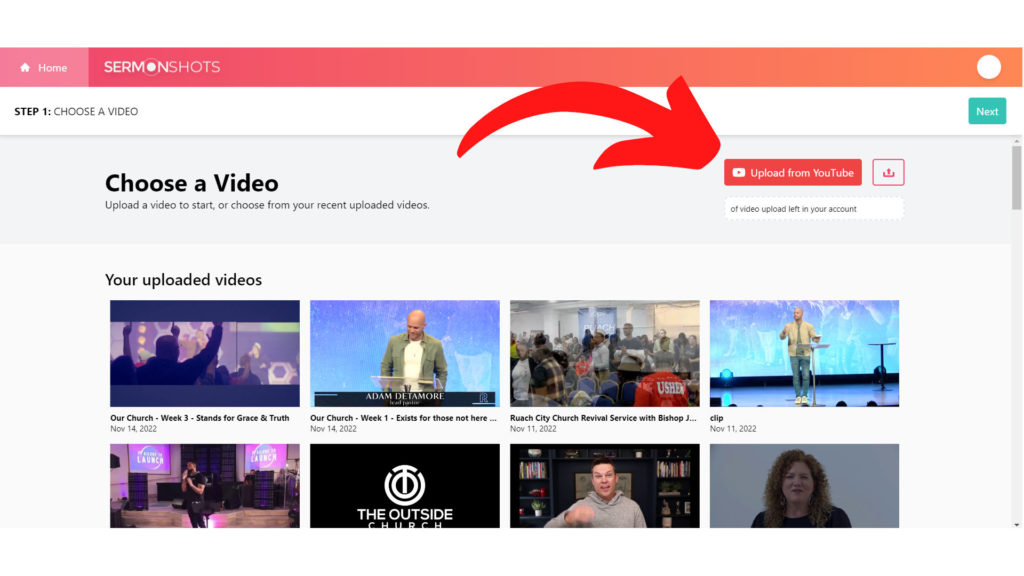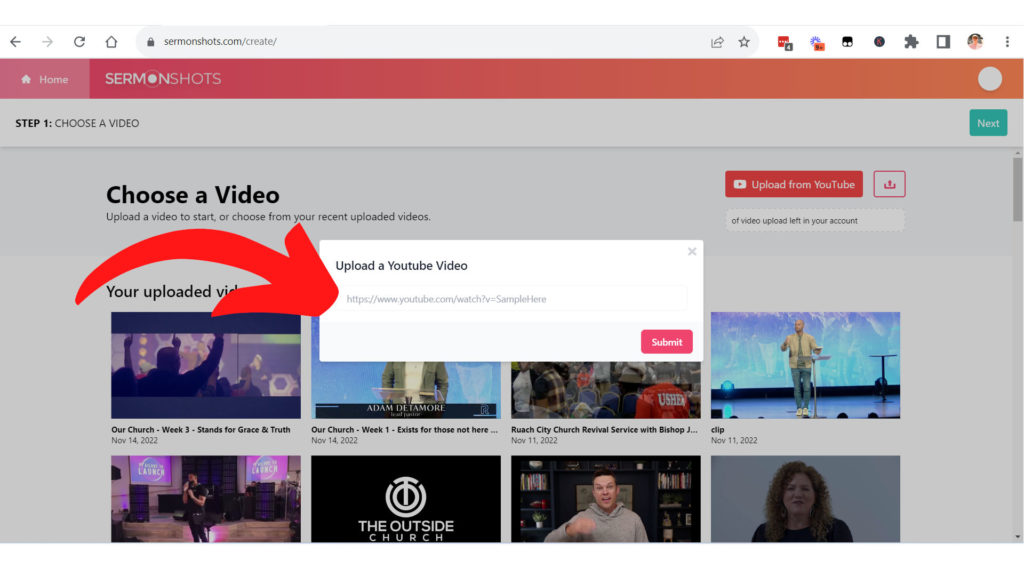 2. Select a Template/Design
You can filter by size in either square, vertical, or horizontal formats. We've seen huge growth in the popularity of posting Instagram & Facebook reels, YouTube Shorts, and TikToks. These all require the clips to be done with our Vertical templates which are all formatted to be the correct size for those platforms. After you select your template just hit "next" in the top right corner.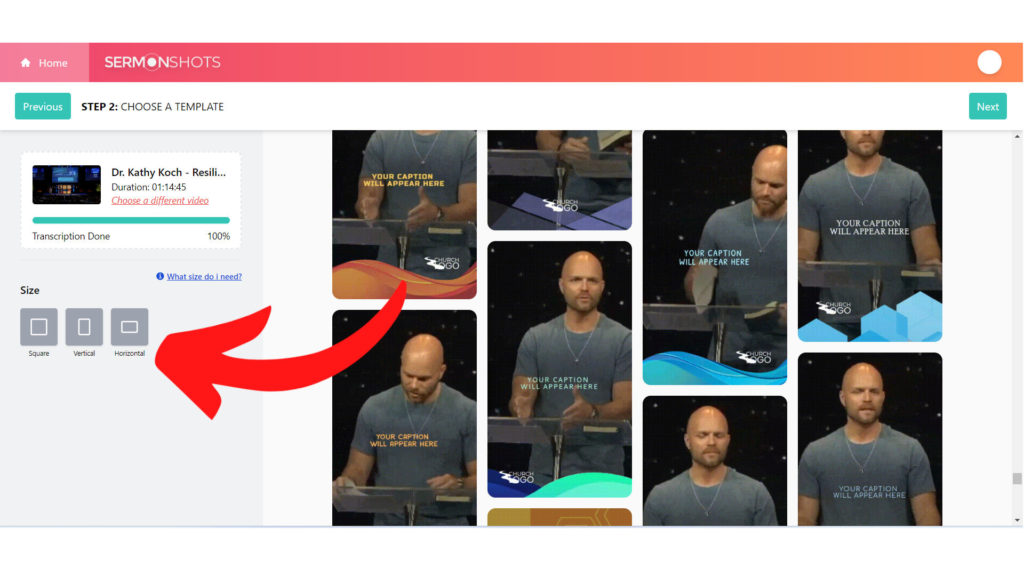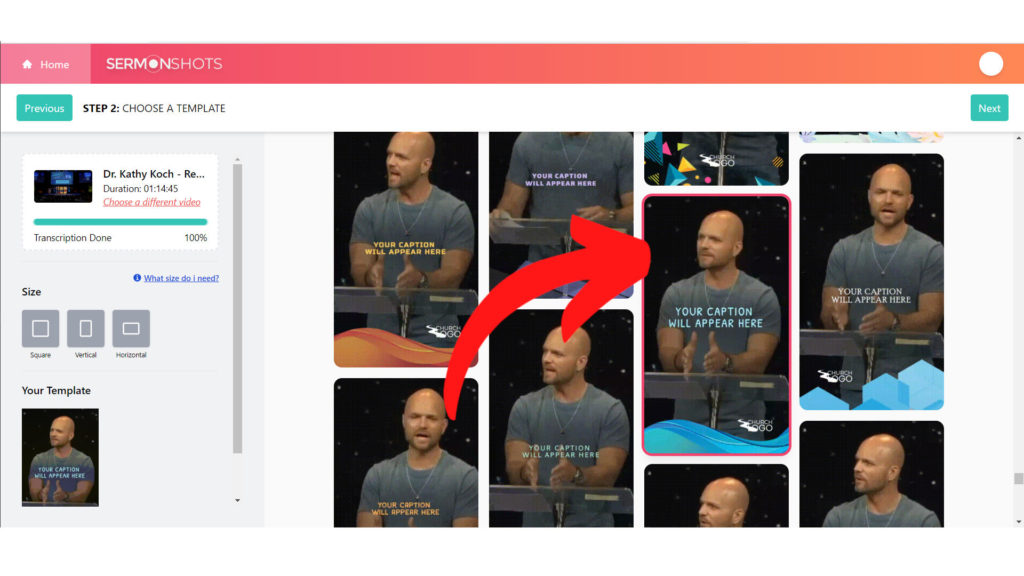 Tip: Use vertical for Instagram and Facebook Reels, and Tiktok. Use square for Instagram and Facebook posts. Horizontal should be limited to longer YouTube videos. It can be used as a Facebook post but square is better.
3. Find the Clippable Moment [Search Like a Word Document]
This step is what makes Sermon Shots so quick and easy to use. The entire sermon has been transcribed on the left and this makes your sermon searchable like a word document. Use the search bar at the top left to find what you are looking for. Now you just need to remember a keyword or phrase from the sermon and it will take you right to that part of the video.
The search functionality will find all uses of the word and tell you how many instances there are. You can click the down arrow button to scroll through all uses of that word and find the one you are looking for. Each time you click the down arrow, it will take you to the next use of that word in the video and in the transcription.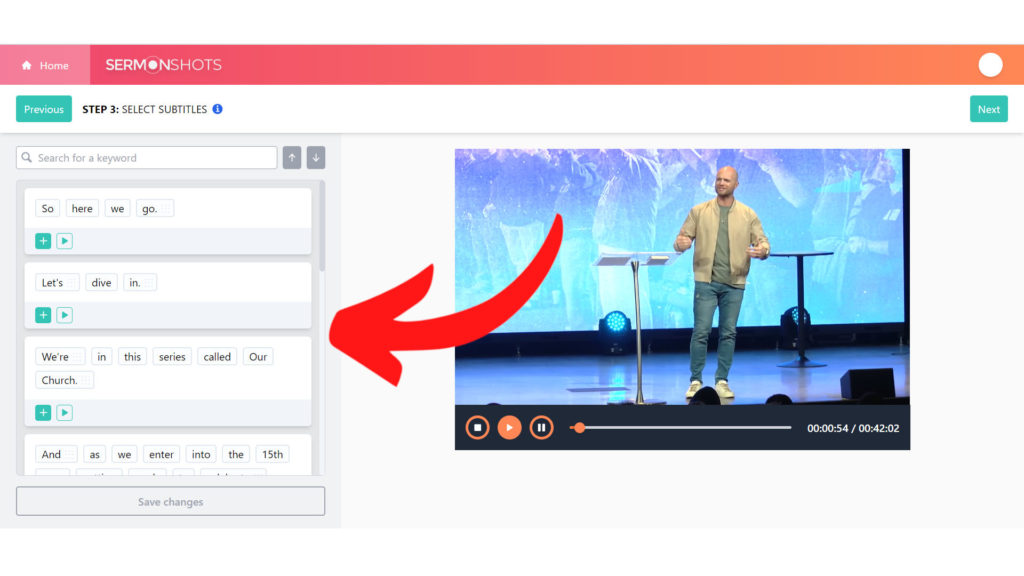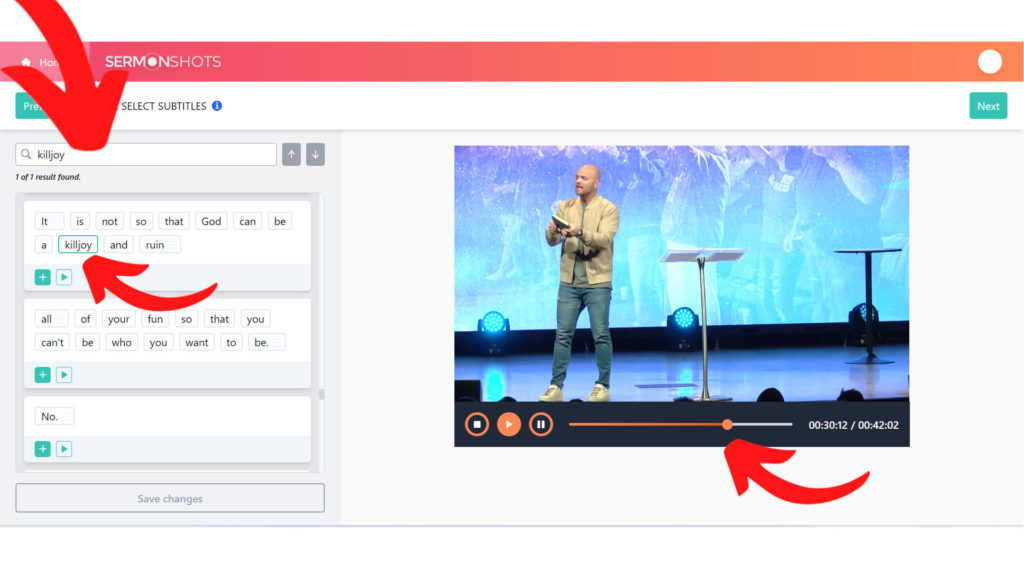 Helpful Resource: How to Pick Viral Moments
Tip: Instagram reels have a time limit of 90 seconds. Facebook reels and YouTube shorts have a 60 second time limit. We recommend staying within that 60 second timeframe when possible but always get your message across as quickly as possible. 
4. Select the Clip [It Just Takes a Few Clicks]
Select the text you want to be included in the clip by hitting the [+]plus button on the text bar. You can even listen through to make sure that's exactly what you want by hitting play. You can pick one continuous portion or select from different sections of the message to combine more than one point into the clip. Check out the "time duration" at the bottom of the tool to track how long your clip will be. When you're finished selecting the text just hit "next" again.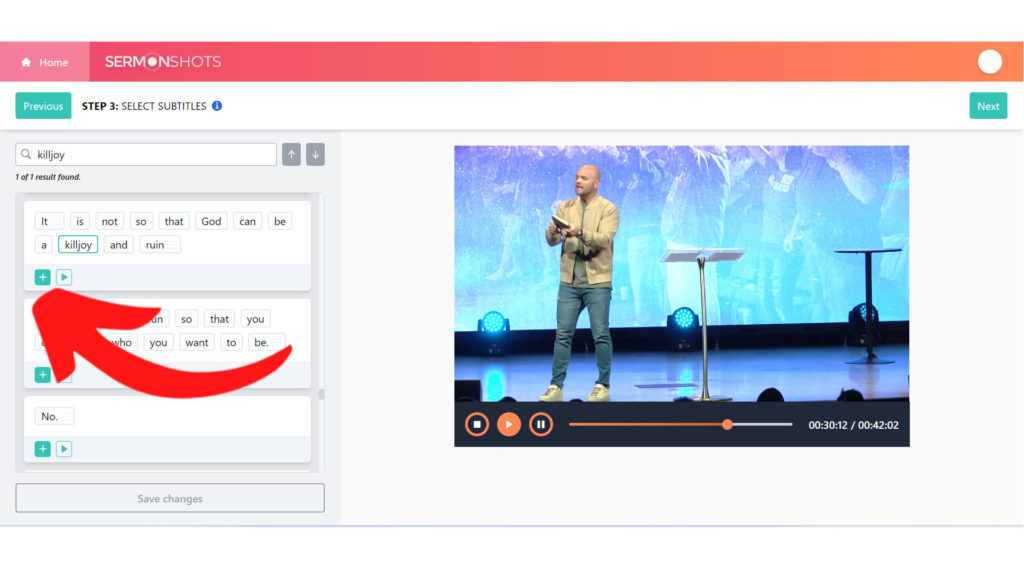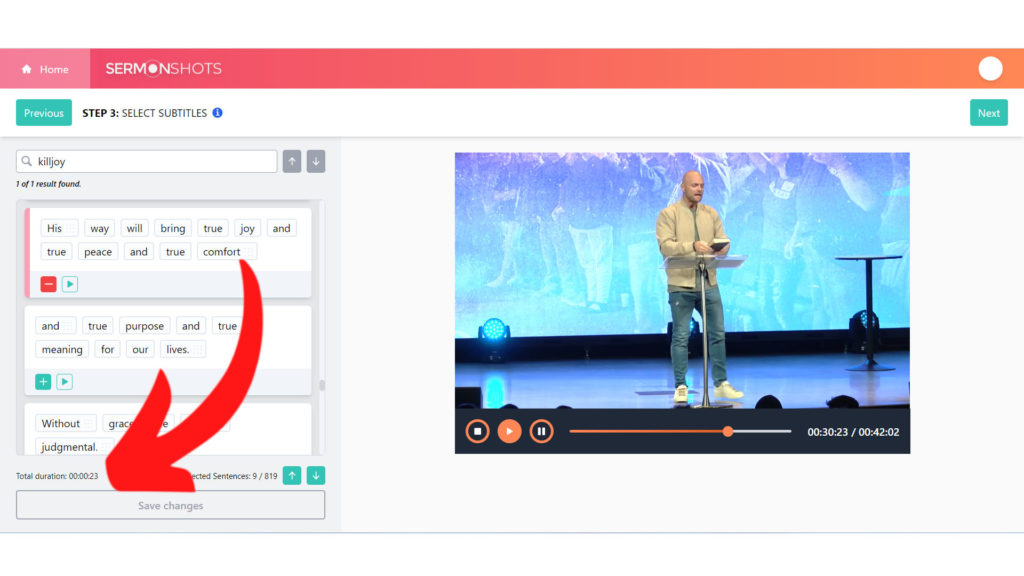 Tip: The most engaging clips are those that are inspirational (we call them "amen moments").
5. Preview and Make Edits
You can now preview the full video. You can also make some additional edits or improvements. You can change fonts, colors, add your logo, add a title, and more. You can also add background music to give the video some extra emotion. Just like most churches have the keyboard pads playing towards the end of service. You can add that effect to any part of your sermon now! You can select from music already available on the tool or upload your own from your computer.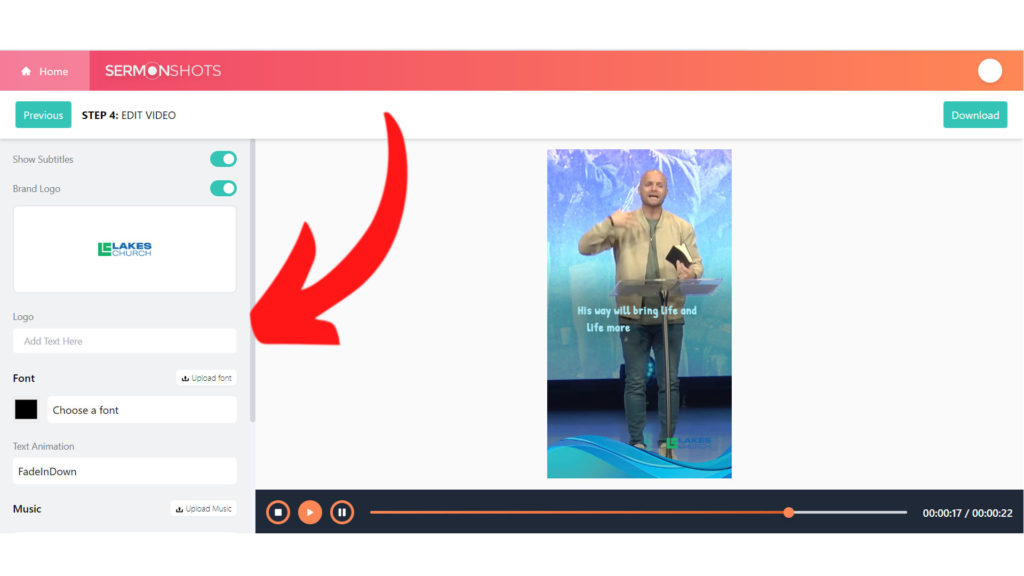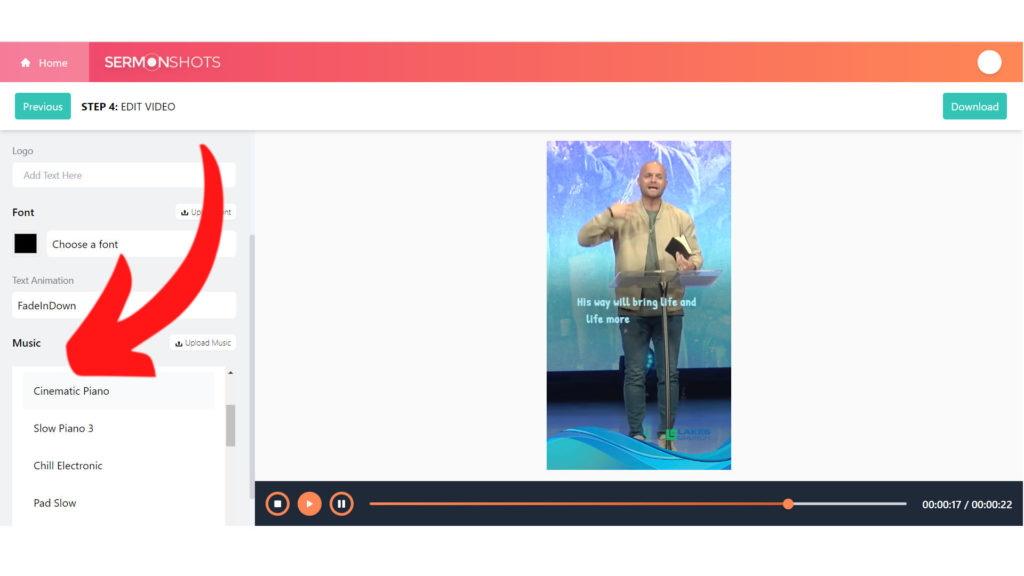 Tip: If you want to try a different template you just go back to step 2 and select a different template. Go back to step 4 to see a new preview.
6. Download and Share on Social Media
Now you just download with the button on the top right and the video is yours to share anywhere you want.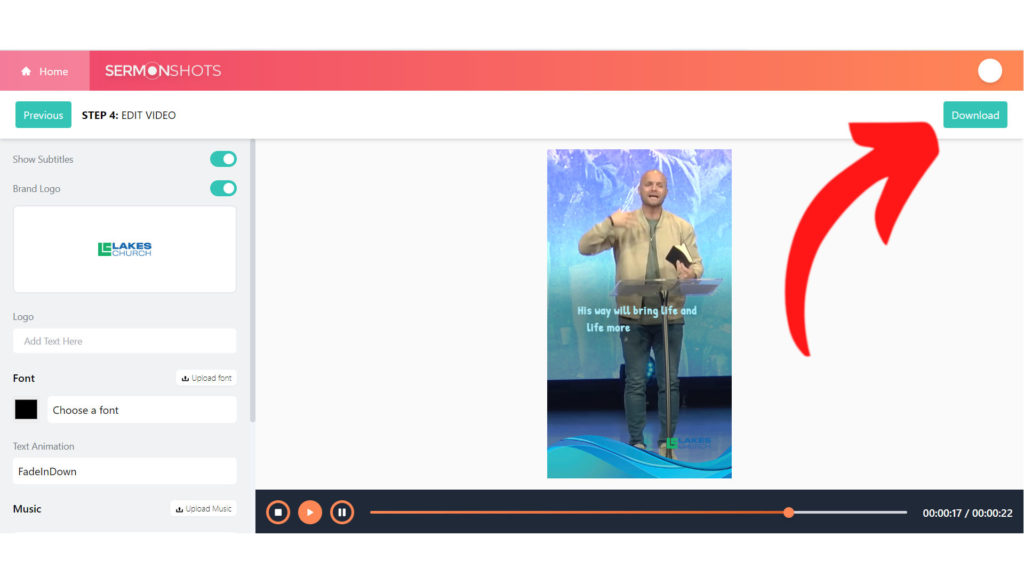 Tip: When posting to social media add a short description of the video along with popular hashtags to reach more people and increase your chances of it going viral.
Are you ready to try Sermon Shots?