X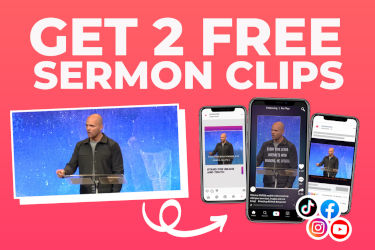 You know that:
☹️
Professional looking videos are very hard to create
🤑
And they can be quite expensive
😵‍💫
Not to mention the time it takes to produce just one
😩
Plus, trying to figure it out yourself is exhausting
🥳
The Good News is We've Got Your Back! ↓
Sermon Clips • Sermon Snippets • Sermon Snaps • Mini-Sermons • Micro Sermon Videos • Sermon Recaps • Sermon Highlights • Bite-Size Sermons • Sermon Reels • Church Clips • Little Short Sermon Videos to post to Social Media • Those Videos for our Story
Whatever you call them, that's what we do!
We call them
Sermon Shots

.
You already have so much to share!
Your existing and ongoing sermon video archive is an arsenal of content just waiting to reach people! All you need is the tool to set them loose!
Pricing
✓ 30-Day, Money Back Guarantee
✓ Cancel Anytime
2 Free Clips
👍
$0
No CC Required
2 free clips from your sermon
We make them for you
Very fast turnaround time
Unlimited Sermon Shots
10 hours of video uploads per month
Priority support
Unlimited Sermon Shots
20 hours of video uploads per month
Priority support
↓ Looking for a full service plan? ↓
3 clips per week

in vertical and square format

Our Guarantee

: 1 clip by Monday or the month is free
Personal Rep
Overnight turnaround
Send us your sermon on Sunday, get a clip by Monday morning
All 3 clips no later than Wednesday
No
Expensive Software
to Download
No
Professional
Experience Needed
No
Long-Term
Contracts Required
Here's How it Works!
Choose a Subscription Level
We have levels for every church, including our FREE account for you to give it a test run for the first month! Pick the one that works for you!
Start Creating Right Away
As soon as you choose your subscription you're ready to start creating Sermon Shots! Upload your first sermon video and you're ready to go!
Reach People
People in your community and around the world are waiting for what you have to offer. Short, meaningful and consistent sermon video content will make a difference for them and for your church growth.
Get Started Now
"Use social media more like a pulpit; use social media less like a bulletin."
- Brady Shearer
I can't wait to see how God uses Sermon Shots to partner with your church! I am here to help you make your Church more visible and make it simple!
My passion for leading worship began as a youth and led to my decision to attend Lee University, where I traveled the country with Lee Singers. I am excited to start a new season of ministry helping churches to reach people through their online presence, sharing the gospel with as many people as possible.
Contact